Bank of Ireland donate AED to Dalkey CFR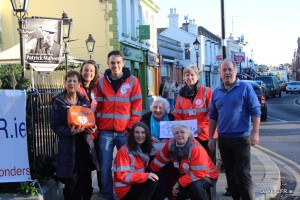 On Tuesday 2nd of December, the Dalkey Community First Responders were delighted to receive a defibrillator which was kindly donated by Bank of Ireland. This defibrillator will be mounted on Dalkey Main St and be available 24 hours a day to aid members of the public who suffer a cardiac arrest. Early CPR and defibrillation are critical in saving lives and this defibrillator will help ensure members of the Dalkey community receive this life saving treatment in the minutes after a cardiac arrest.
Over the next few weeks, Dalkey CFR will be providing CPR and Defibrillator training for all members of the community who wish to learn this life-saving skill! If you'd like to be involved, please get in touch with us!
We are always looking for new volunteers in Dalkey CFR, so if you feel you could help in any way please contact us. (No prior experience required!)
Here are some photos from the presentation: