About Us
Dalkey CFR is a Community First Responder group formed in 2014. We provide a First Responder service within a 2km radius around Dalkey covering Dalkey, Glasthule, Glenageary, Killiney, Sallynoggin and Sandycove.
Our volunteers come from all walks of life in the community and it is not necessary to have prior medical experience as you will be fully trained before ever going out on call. We are also very involved in teaching CPR & Defibrillation skills to members of the public in our local community.
How the on-call system works:
When 'on call' as a volunteer responder, the responder has the Dalkey CFR mobile phone and the kit bag containing the defibrillator. During this time, if somebody in our coverage area calls 999/112 reporting a cardiac arrest, stroke, chest pain or choking an ambulance will be dispatched  and simultaneously the DalkeyCFR mobile phone will be alerted with the nature of the call and address of the incident. As the responder will be within a 2 km radius, almost always we reach the patient a before the emergency ambulance and will have started CPR and attached the defibrillator if appropriate.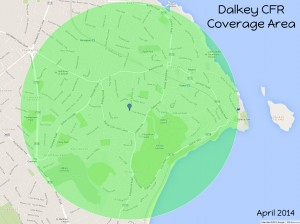 Volunteer Responders are only dispatched to specific medical calls such as cardiac arrest chest pain, stroke,or choking. Volunteer responders are not dispatched to any calls involving trauma such as car accidents, or people injured in falls etc.
In Dalkey CFR we operate a 'buddy system' so that responders work in pairs. Each responder is notified of the incident and they make their own way to the scene and work together to treat the patient.  New volunteers are always paired up with experienced volunteers to gain experience during their first few calls.
See the attached map (left) outlining our initial coverage area.
If you're interested in volunteering, complete this Google Docs form to send us your details.
If you'd like further information, get in touch with us through the contact page.