CPR Training
Providing a First Responder Service is one of our main goals, but we are also very interested in teaching CPR to members of the public. When a person's heart stops beating, the sooner CPR is started, the greater the chance that person has at surviving the cardiac arrest.
CPR Workshops / Demonstrations
If you have a group (work / school / sports team / friends) or an event we would be very happy to come along and run CPR Demonstrations. Get in touch with us to discuss it further.   We have provided these workshops at the Seapoint Rugby Blitz, Dalkey United Soccer Blitz, Dun Laoghaire Rathdown Co Co Markets.  Our workshops are suitable for all ages and can be tailored specifically for adults, children or families.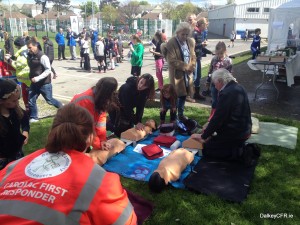 CPR Courses
If you are interested in doing a structured CPR course get in touch with us and we'll let you know when our next course is scheduled. We offer the Cardiac First Responder (CFR) Community level course for members of the public. This course is recognised by the Pre-Hospital Emergency Care Council and your certificate will be valid anywhere in Ireland.
The course takes approximately 4.5 hours and covers CPR, Defibrillator Training, Stroke identification and management, Heart Attack treatment with Aspirin, and choking treatment. We do have to charge a small fee to cover the costs of running the course, but the skills you learn will be invaluable!